Search engine optimization (SEO) includes the activities relating to improving your ranking position in search engines to generate more free traffic, while pay-per-click (PPC) advertising allows you to place your ad in search results and pay for each click you get. They are very different, and both effective in their own way, but which is the better investment?
---
How They Work
SEO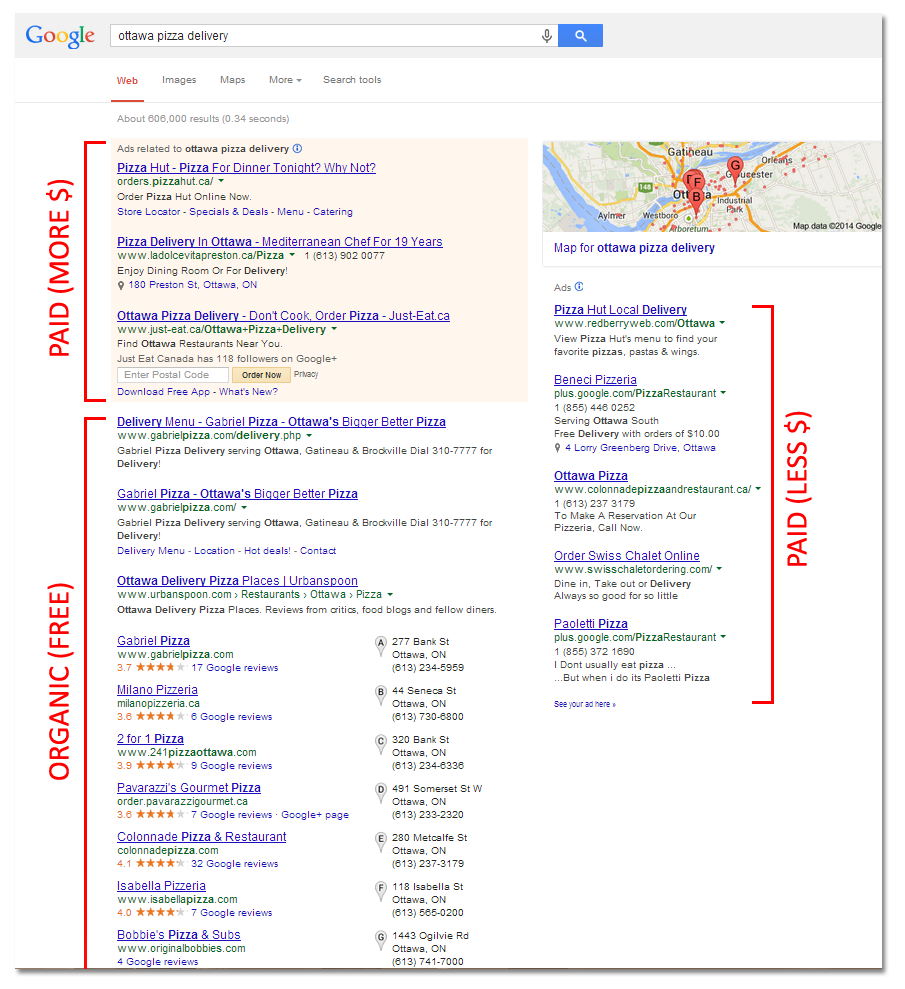 SEO is the process of editing, adjusting, and updating your website so that search engines like Google and Bing find it as relevant as possible (rank it well) for the search terms people use to find a business like yours. So for example, if you own a pizza shop in Ottawa, you might optimize your website for the keyword "ottawa pizza delivery" so that it ranks well for this term in organic results – bringing free traffic.
PPC
PPC, or pay-per-click is the type of advertising offered through programs like Google Adwords and Bing Ads. Through the Adwords and Bing interface, you can decide which 'keywords' you want to advertise for, and how much you're willing to pay for each. You then pay for each click you get – relative to what you're bidding on them. The higher you bid, the higher your ad will be in the paid search results, but the more you will pay per click.
---
The Benefits & Challenges of Each
SEO Benefits
A well-optimized website brings you natural – organic – or in other words, free traffic.
Organic traffic is typically very qualified, so if optimized correctly, your website should just naturally attract good-potential customers. In other words, organic traffic generally has one of the highest conversion rates.
It's a 'set investment' for potentially 'infinite wins' – meaning, the initial optimization work you pay for at first could potentially result in years of free, sustainable, and even worldwide traffic.
SEO Challenges
It needs to be done right. If you either consciously or unconsciously do something Google doesn't appreciate, it could hurt your website more than improve it.
Depending how big your website is and how much room you have for improvement, full SEO of your website could be a big job.
There is another half to SEO – the 'off site factors' – which represent about a 50% influence to where you rank. These include social signals and links from other websites, and are not as easy to control as 'on-site factors' like adding keywords.
To see the positive effects of SEO can sometimes take a long time – even years.
PPC Benefits
It's immediate – as soon as you activate your ads, they'll start appearing in search results and driving traffic.
You only pay for what you get (you only pay when someone clicks), so it doesn't have the same sort of risk as more traditional advertising mediums – plus you can adjust settings, targeting, and budget at any time.
With PPC, you can have your website appear at the top of Google for more keywords than what you could realistically achieve with SEO. In other words, there's no limit to the keywords you want to advertise for.
You can direct ad traffic to any page of your site, including custom landing pages customized to the type of audience you're targeting with your ads.
PPC Challenges
Like SEO, it needs to be done right. You'll always pay only for what you get, but if you aren't advertising with the right keyword selections and tracking conversions, you could be wasting money.
It requires constant monitoring and management (SEO does too but not as much).
Paying for traffic to your site increases your cost-per-conversion (or customer acquisition cost), which comparatively to SEO, can become very low.
---
So Which is the Better Investment?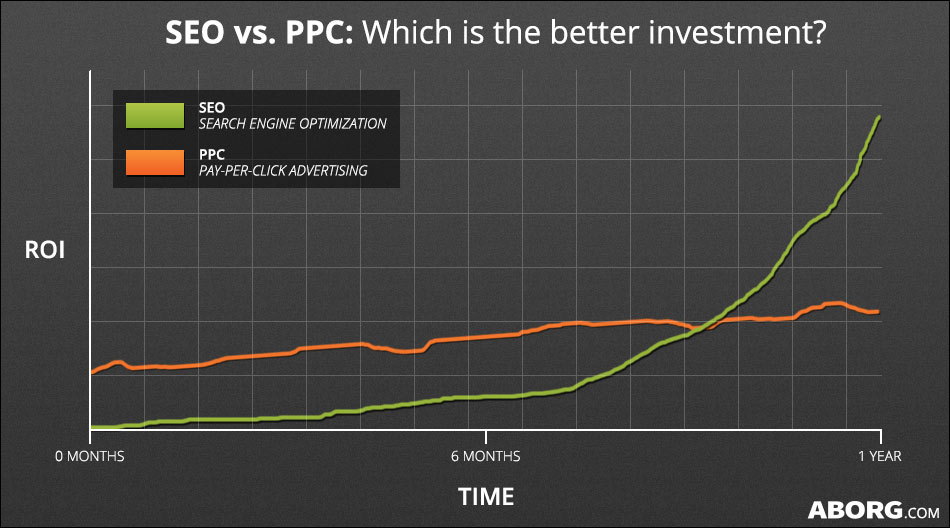 Short term: PPC is the winner.
If you're launching a new product, a new website or just need a quick boost in traffic, a paid campaign through Adwords will give you the quick traction you need. The ROI you see from paid search advertising will be fairly constant, but will have a slight upward trend with good management and optimization that continually refines it to perform better.
Long term: SEO is (almost) always the winner.
When SEO is done right and done well, the eventual benefits can be extraordinary, and the initial investment could more than pay for itself. See our portfolio entry for our St. Lucia Villa website project which featured advanced SEO. The entire website project and all our SEO work paid for itself in just 6 months with all the free, organic traffic it captured.
The reason we say "almost" always the winner, is because you can never guarantee results with SEO. Ultimately, it's up to Google and we can only put all the best practices in place to give you the best chance possible, but it also depends on how competitive your industry is.
---
Conclusion: Use Them Together, Strategically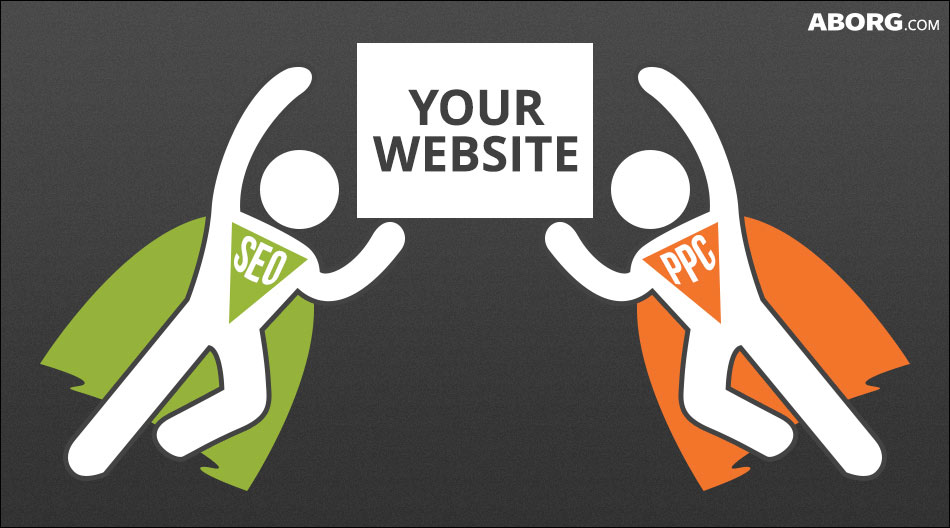 With few exceptions, we always recommend an online marketing mix of both SEO and PPC for our clients – and especially for new websites. By starting off strong with PPC, you can start bringing immediate traffic and sales which can help pay for the SEO investment at the same time. Then, once the affects of SEO start to kick in and you start receiving more free traffic, you can start to phase out Adwords if you have enough organic traffic. Or you may even wish to keep going with Adwords as a supplement if it's bringing a good return!
Strategies for using Adwords & SEO together
Advertise for the keywords which you do not yet rank well for organically – to cover all the keywords you wish.
Advertise for even the keywords you already rank well for – thus giving your website two places in Google, improving the chances someone will click on either or. This is good for when you want to capture as much traffic as possible for certain search terms.
Run Adwords for a wide variety of keywords to essentially test their value. The insights you gain here will then translate to SEO when you know which keywords you should optimize for.
Final Words
As we mentioned, for good results and ROI, you're best to leave SEO and PPC to the professionals. If you think your business could benefit from SEO or PPC or a mix of the two, get in touch with us today and we'll be happy to discuss more strategies!
Thanks for reading,
Ryan