It was just recently that we launched the brand new website for our long-term client, GPS to GO, a leading provider of GPS fleet tracking solutions in Ottawa, and increasingly, Canada and the US.
---
Premise
We had done their previous website as well several years ago, and it had served them very well – ranking highly in search engines and driving a good amount of qualified traffic. The issue later became that GPS to GO wanted to capitalize more on this traffic – in other words, convert more of it into leads via inquiry forms and other contact methods.
That's where we came in to redesign their website not just for an improved, modern look and functionality, but also for conversion optimization to turn more of the same traffic into inquiring leads.
The Previous Website: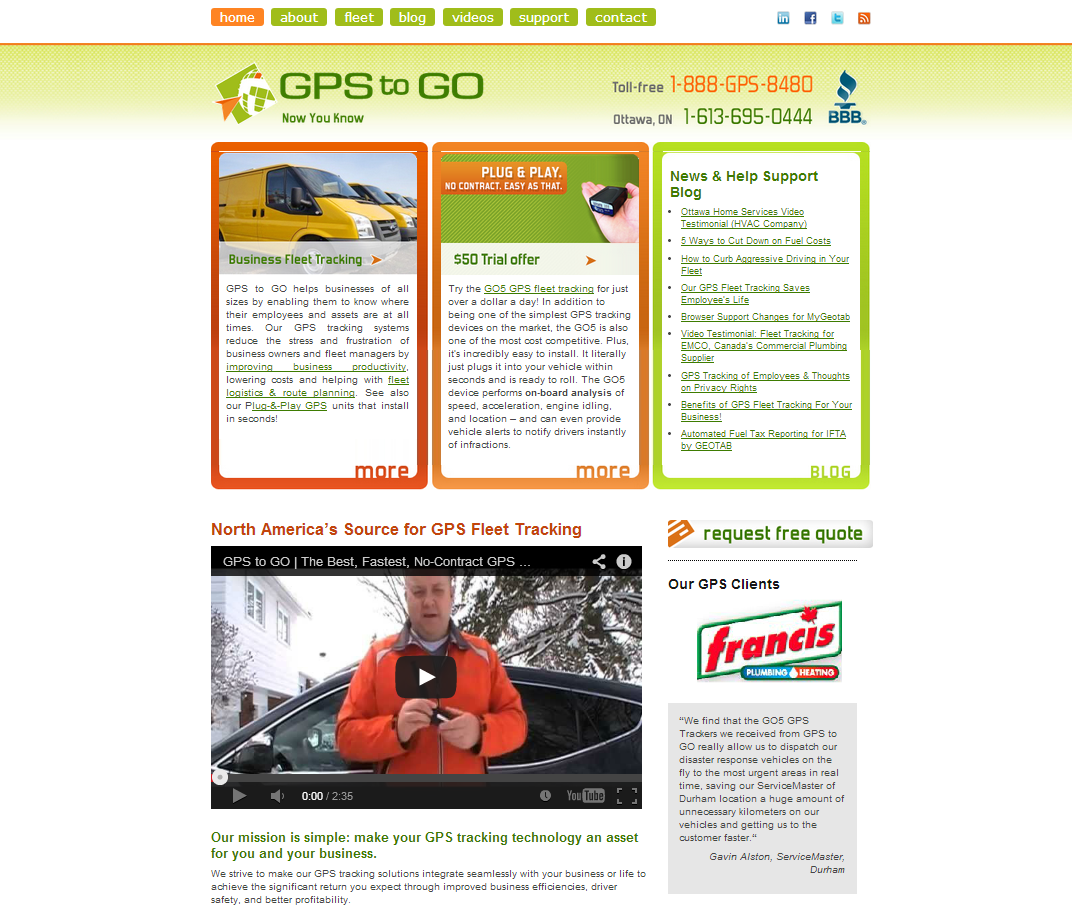 ---
The New Website: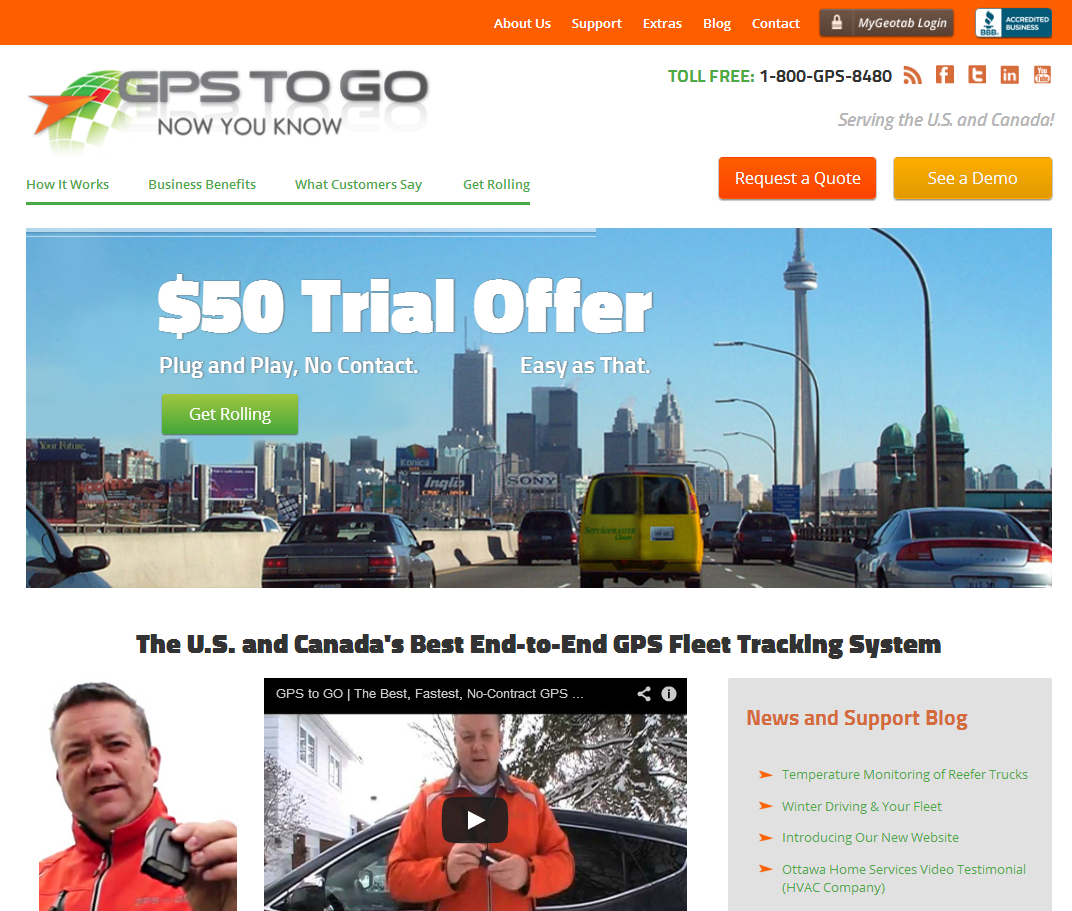 [View live version of GPS to GO here]
---
The Project
The project included the following aspects:
Analysis & Strategy
Of course, we always start with analysis of their current website before putting together a web strategy for the new site. We wanted to see what was working effectively – what could be better – what were the drop-off points – and how could we better funnel people in the direction we want them to go.
So we took a look at visitor flow charts and all the rest, which identified some key insights. For one thing, we saw that most people who do submit a quote online, do so on their first visit to the website, and only visit a couple pages before doing so.

This told us that their audience is straight to business. So our goal through our messaging and layout of the website was to: A) give them the facts, and B) lead them clearly to the quote form or demo.
Logo Design
Our job was to enhance and refine the GPS to GO branding; to present them as the well-established company they are, but also showcase their highly personalized and down-to-Earth service. It all started with evolving the logo to be more modern and slick.

The new logo set the stage for the rest of the website design, which followed this cutting-edge, technological, and modern look that represents their latest branding.
Responsive
Like every website nowadays should be, we were sure to make the GPS to GO website responsive – meaning it adapts itself for optimal presentation on any type of device!
Messaging
One of the main goals of the new website was for more effective organization and presentation of web content. So for every page, we included an attractive, captivating banner with a benefit-related message, along with clean and well-organized content. Take the banner as seen to the right, which communicates; 'Installed on Any Vehicle in Seconds – No Downtime – No Hassle'.
---
Conversion Optimization
There's a lot that goes into a conversion optimization strategy – more than what can be covered here – but here are some of the ways that we optimized this site for conversions:
Clear call-to-action buttons, represented prominently on each page and in more than one location (top and bottom and side). We included two separate call-to-actions to give people the simple choice of submitting or quote or first watching a demo.
Concise, to-the-point content. We don't want to inundate or confuse potential clients with too much information – just enough to peak their interest and then guide them to the quote form.
Benefit-related messaging. Each page has its own banner with a unique benefit-related message. As seen in our post on Psychology of Web Design, people actually notice large header text more than an image.
We reiterate the process to 'Get Rolling' – or in other words, how to purchase and get started, throughout the site and on the quote form. This is to alleviate any second thoughts and reaffirm that the process is easy, straightforward and trustworthy.
Stripped down quote form. On the quote form page itself, we stripped away all of the navigation elements except for the contact and home links. This helps remove distractions for someone filling out the form, helping reduce the abandonment rate. Example below: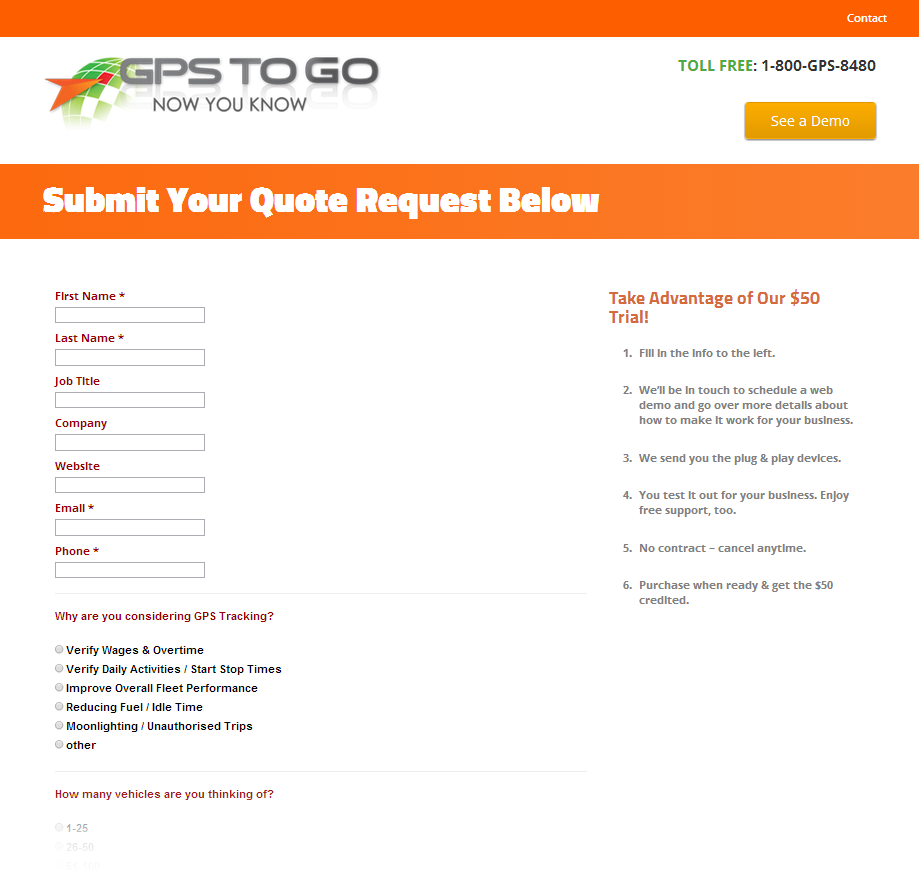 We also kept all the form fields in a single column (which again reduces abandonment rate), and reiterated the process to the right.
We look forward to seeing how our efforts pay off! If you're looking for a partner in creating a strategic new web design for your business, trust the A-team (ABORG team).
Thanks for reading,
Ryan