This is an increasingly important question to ask, because indeed, social media is more and more so affecting the way your website ranks in search engines and thus giving all the more reason for businesses to adopt social media if they haven't already.
---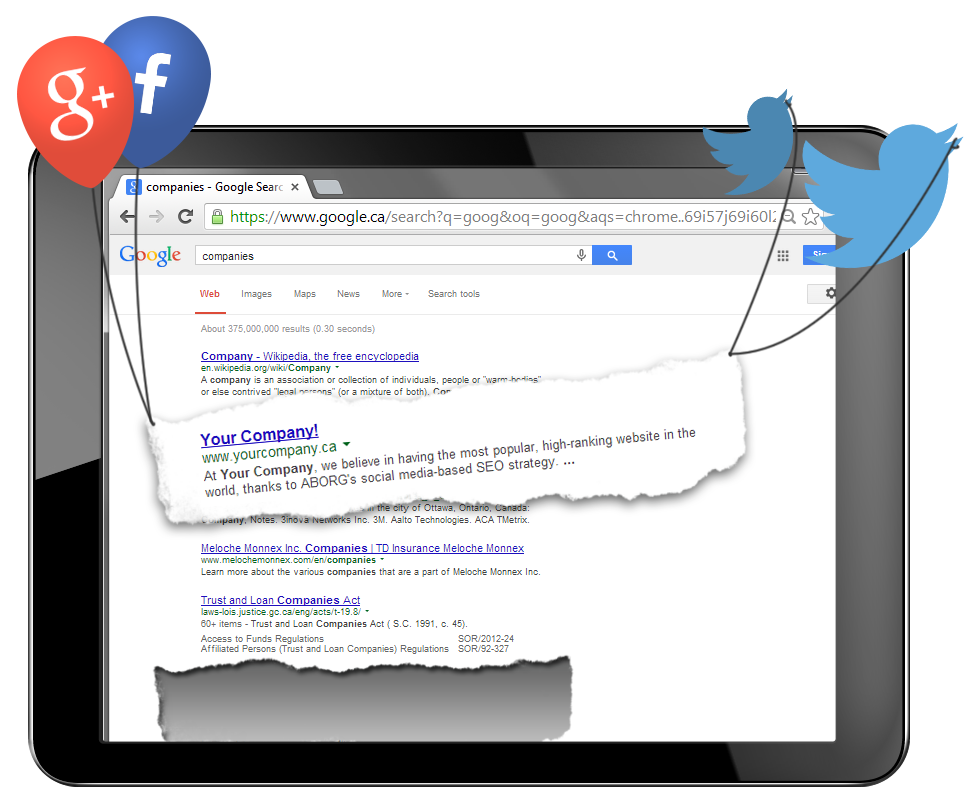 Why Social Media Matters to Your Website
Google's algorithm is all about delivering the most relevant content to searchers. The way it determines how relevant your site is is based on a multitude of factors, from what keywords your site uses to how often it's updated to how many links it has – and increasingly so, how many people are talking about it on social media.
Why Should Google Care About People Talking About Your Website on Social Media?
Google knows that activity on social media is from real people and therefore must represent the real picture on how popular your website is.
The internet is full of spam and fraud. Signals from real people on social media mean more than a couple links from spammy websites. Social media is now the place Google can look to for unbiased and legitimate 'signals' to help it know how authoritative or popular your website is – and thus, where it should rank.
2013 versus 2014
Social ranking signals have only just begun.
Google updates its algorithm progressively over time, so doesn't make giant changes all at once.
As social media itself continues to grow and Google continues to update its algorithm, we can only expect social media to be more important for website rankings.
---
How Does Social Media Affect Your Website Rankings?
Social signals – these are links from social media to your website. So if your business is present on various social networks and shares a variety of content (such as your blog posts), your website might receive a lot of traffic from social media. This tells Google that people like and are interested in your content – and thus, Google wants to deliver more of your content to its searchers (rank better).
SEO, or search engine optimization, is the process of attempting to influence Google as much as possible to consider your website as highly relevant for your desired search terms. This has traditionally been done by strategically using keywords across the website and building links, but social media is playing a growing part.
Here's the Proof:
When you publish new content and it gets shared on social media, Google will index it faster and boost rankings.
It's already been proven that increased engagement on Twitter results in higher rankings.
Bing is already using the Facebook Graph Search which delivers results based on what friends are saying on Facebook.
It's already been proven that more +1's from Google+ result in higher rankings.
It's already been proven that after connecting your Google+ profile to your website so that your thumbnail shows up directly in search results (see below), the click-through-rate of people to your site will improve.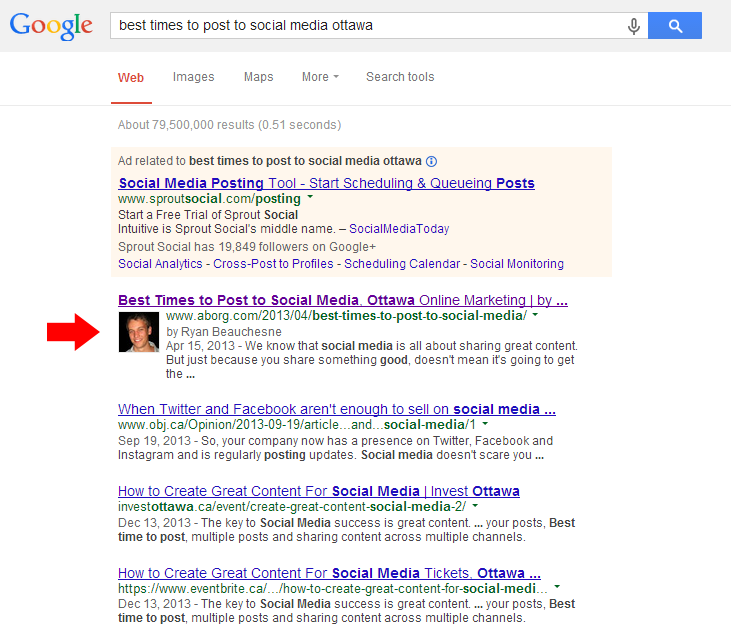 ---
So Which Social Networks Should You Be Using?
Of course it depends on your target audience and which social networks are most relevant to that, but some of the main, critical ones we see are:
Facebook: there's no question that your target market is here since Facebook encompasses so many people. The question comes in strategy on how to reach them. Facebook is the number one driver of referral traffic, and thus the perfect place to drive social signals to your website for SEO.
Twitter: great for B2C and B2B applications, Twitter is a great place to engage directly with customers, share content, and promote social signals to your site.
Google+: this one is not as much to reach your customers (unless they are young, male, and techy), but more to please Google. There is clear evidence that presence and activity on Google+ results in better rankings on Google (as one might only expect).
Pinterest: If your business fits with Pinterest's audience, then we highly recommend it. Pinterest drives the most referral traffic after Facebook and the most referral traffic for e-commerce. So if you sell online, this is the place to be.
There is a plethora of other social networks out there, each with its own niche and audience. So part of the social media strategy we do for clients is identifying what networks they should be on.
---
Conclusion
Social media is not a trend and is growing rapidly. Likewise, Google is considering signals from social media more and more so when deciding how to rank websites. If you haven't seen the value of social media yet for your business, you should now. Social media is a long-term commitment, and the sooner you start the sooner you'll start seeing benefits.
Thanks for reading.
– Ryan