In a world where we are constantly inundated with emails, getting your message through can be tough to say the least. It might make you wonder if it's still worthwhile.
---
Well, we believe absolutely it is still a very effective form of online marketing!
Benefits of Email Marketing
A great way to keep in touch with current or potential customers, helping you stay 'on top of mind'. You might be surprised at how well a regular (but not too frequent) email will influence your sales and conversions.

Likewise, i

t's a perfect tool for cross-promoting or up-selling your current customers.
It's one of the most cost-effective forms of online marketing.
And more…
BUT – There Are New Considerations!
Email marketing is still an effective marketing tool, but in order for it to be effective you always need to be adapting and following current best practices, since like everything else on the web, these things are constantly and quickly evolving.
The latest development to consider is the new layout of Gmail.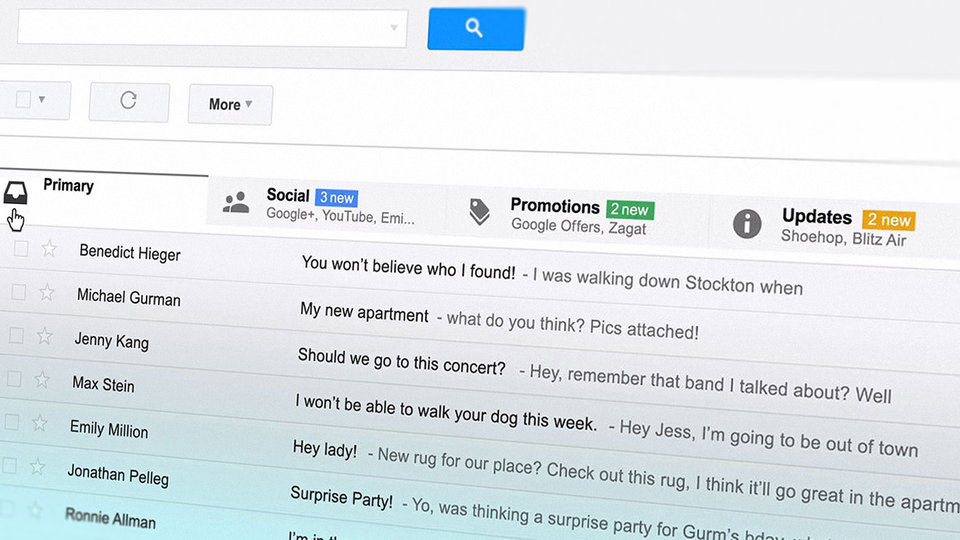 The new Gmail inbox categorizes messages by Primary (personal), Social, Promotions, Updates, and others. This means that for those sending marketing messages, you are most likely going to end up in the Promotions tab. So far it is still being observed whether this is actually good or bad for email marketers in terms of open rates, but it's still something to think about. Your message will now be swimming in a pool of purely promotional messages, meaning it's even more important to make your email stand out.
Email Marketing Considerations for New Gmail Inbox Layout
Consider sending an email broadcast to just your Gmail subscribers, informing them on how to put more prominence to your messages should they wish. They can do this by starring one of your emails or by dragging one of your recent messages to the Primary tab.
Spend some good time thinking about an awesome subject line. According to SalesForce.com, subject lines with fewer than 10 characters received 58% open rate, and according to Convinceandconvert.com, 33% of email recipients will open a message based on the subject line alone. So make it count.
Keep it short and to the point with a basic, mobile-friendly design. Half of emails nowadays are opened on mobile phones.
And of course, remember all the basics as well – interesting, insightful and relevant content. Consider your frequency carefully not to bother your readers. We generally see a frequency of every month to quarterly.
Email Marketing Services & Solutions
If you have a large email list and if email marketing is a crucial part of your marketing efforts, you are best to choose a professional email broadcast service provider such as ourselves. Our technology and expertise will greatly increase your chances of getting more of your messages through effectively, avoiding spam filters, blacklists, and so on.
However, if you are just starting with email marketing or have a relatively small list, there are some great WordPress plugins for managing and conducting email broadcasts!
WordPress Email Newsletter Plugin – WYSIJA!

Our current favourite email newsletter plugin for WordPress is WYSIJA (What You Send Is Just Awesome). Here's why:
Sounds awesome, right? Well it is.
If you have a WordPress website and are interesting in using the WYSIJA email broadcast plugin, get in touch with us and we can help you install and configure it properly for best performance. And of course, it's very easy for you to manage and send emails once it's up and running.