In the marketing department at ABORG, we're big believers in sticking to what we know best: digital marketing, lead generation, social media management and the like. But recently made a major exception: a departure into the world of "traditional" advertising that none of us around the office will soon forget!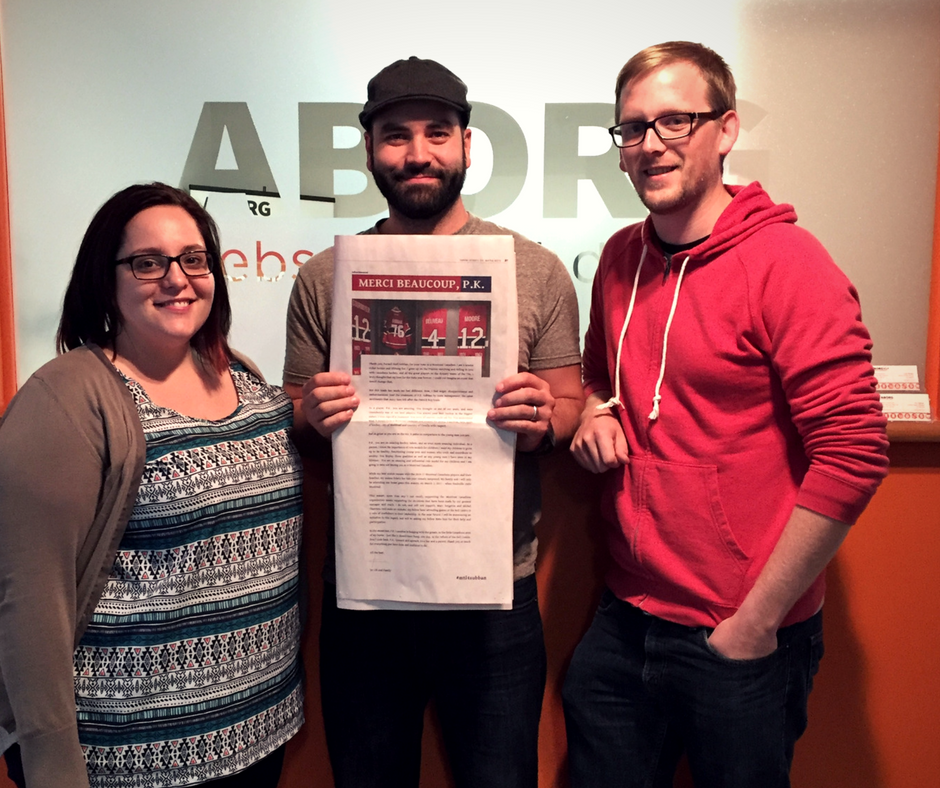 Stephanie Parkhill, Nick Latreille & Jonathan Spratt
When Dr. Charles Kowalski first came to us for help to design his website, we didn't know what print design, traditional media buying, and public and media relations were in store for us. Dr. Kowalski, a lifelong Montreal Canadiens fan, was bothered by the offseason trade of star defenceman P.K. Subban to the Nashville Predators. Not only is Subban one of the better defencemen in the NHL, but his off-ice work, including a $10 million pledge to the Montreal Children's Hospital, was something to truly marvel at.
To express his disappointment, Dr. Kowalski had us take out a full-page advertisement (click to view it in a new window) in the Montreal Gazette, on the same day as the Canadiens season opener. At the bottom, it was signed from "Dr. CK and Family".
The advertisement created national and even international buzz, beyond any of our wildest expectations. It was the talk of the hockey world for the day, and "Dr. CK" became a near-mythical figure in La Belle Province. The story was covered by every news network and sports outlet in the country. Dr. Kowalski had succeeded in bringing more attention to the loss of P.K. Subban to the community… and it was time to spread his message further.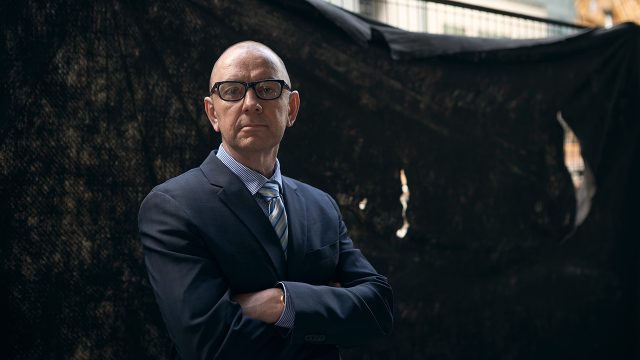 Dr. Charles Kowalski. Photo copyright
Jessica Deeks
, Sportsnet.ca
Phase 2: Media and Donations
Because of the overwhelming interest surrounding the full-page Gazette ad, our office virtually transformed into a public relations firm for a few days. We were able to get Dr. CK appearances on CBC News, nationally-syndicated Sportsnet Radio, a variety of Montreal-based talk radio stations, Breakfast Television, and many more.
Dr. CK took advantage of the spotlight to promote his initiative to raise funds for the Montreal Children's Hospital: A Franchise Held in Trust. To that end, Dr. CK capped the week off with a ceremony at the hospital where he pledged $250,000 of his own money, over 5 years, to the hospital foundation. Watch the coverage from Global News by clicking here.
In addition to the launch of Dr. Kowalski's fundraising campaign, he enjoyed hearing from some prominent figures involved in the trade. Dr. CK received a call from Geoff Molson, the owner of the Montreal Canadiens. He also heard directly from P.K. Subban himself, who invited Dr. CK and his family down to Nashville for a Habs-Predators game — all on P.K's dime!
While the Dr. CK project is not typical of the type of work we take on, we're so grateful for the opportunity to work on a worthwhile cause. If you're able to, please consider donating to the Montreal Children's Hospital here.