Over the years, our team here at ABORG has been consistently expanding to meet the website design and development needs of our clients, and more recently we've had the opportunity to focus on the expansion of our internet marketing services. Because of this growth, we found ourselves in search of a larger office to facilitate our new colleagues.
---
At the beginning of November, our development and marketing teams moved to our new office suite. Although we have a new work environment, we're still in our same beloved building, directly across the highway from IKEA. Situated near the corner of Queensview and Pinecrest, only seconds from the highway, is where we help our clients present their brands online through website design and internet marketing.
Moving to a New But Familiar Setting
As many of our clients know, we've spent the last 7 years (almost half of ABORG's lifespan!) located just off the Pinecrest exit of the 417. When we first moved in, we were fortunate with how scalable our rent situation was with the office landlord! We were able to slowly increase our office space by adding additional offices as they became available. Eventually, our set-up became less than ideal; the office suites were not well-connected and we were resisting investing into renovation. We loved the location, but became dissatisfied with how separated and closed-off the departments were from each other, so we started actively looking for new office space. Luckily, a large suite became available on another side of the building and we made the instant decision to move.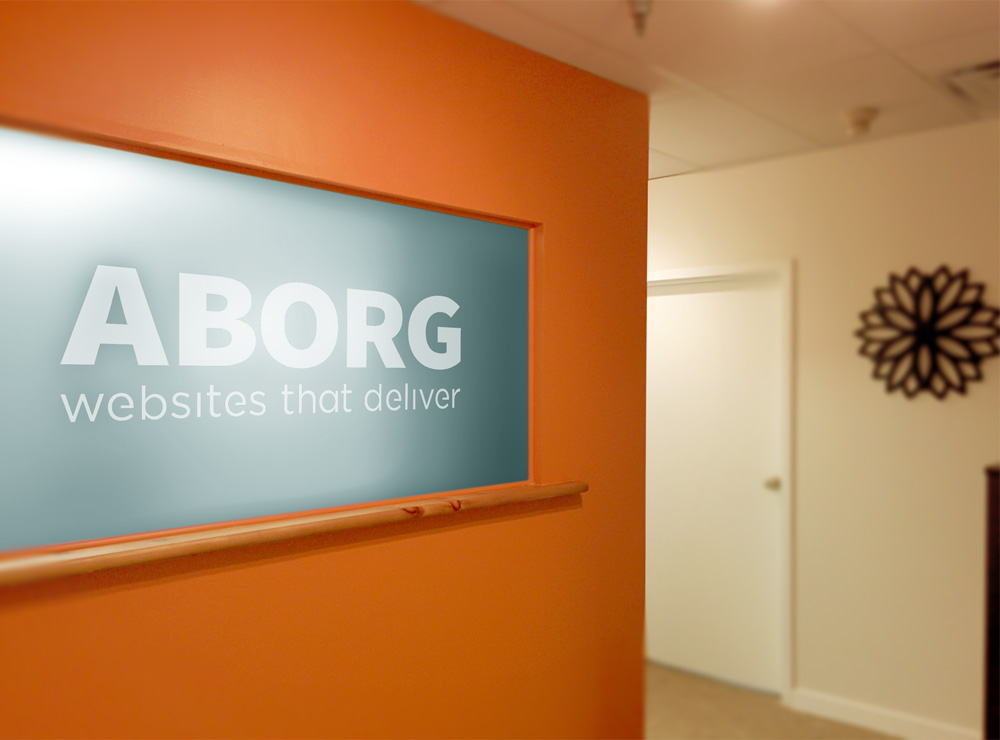 Commonalities Between Offices and Websites
Before and during the move, we didn't waste time trying to paint and assemble the new furniture ourselves, we hired a handyman to do it quickly so we could start enjoying it sooner and without spending our evenings and weekends painting and organizing. We are still in the process of finishing up new artwork for some rooms, which we'll be sharing in the upcoming weeks (make sure to follow us on Facebook or Twitter to receive updates). You will see that our office environment is now more reflective of the quality and individuality of the work that we do for our clients – an image that we have always portrayed through our website. Ok, so now since we're talking about the connection between website design and office location, let's look at what they have in common:
Location is Key. We all know that in real estate it's all about "location, location, location" but not many website owners know that the location of your website and its hosting environment are also very important. A poor choice in hosting can associate your website with other less reputable sites or organizations;
Scalability. Cash flow kills a lot of small businesses and rent is a big expense, especially if you're operating a retail business. Get the best value for your buck from both your landlord and website designer and always put more money into marketing and advertising than you spend on rent or website development;
Continuous Improvement. Just as you have to clean your office, redecorate, and repaint, you need to continuously maintain your website before it's time to fully redesign (or move!). Pay close attention to it. In the same way that your office can get dusty and disorganized, your website can get quickly outdated if you don't update content or design;
Hire Professionals. It's a key tenet that successful businesses invest money to save time, and not the other way around. We are all capable of painting and decorating, and many people can take the time to DIY their own website, write content or run an AdWords campaign, but it's not the best investment of a business owner's time;
Project the Right Image. Your website and the rest of your brand (office, business cards, communication, etc.) need to project the image of the company you want to be. We see a lot of great businesses that have either websites or offices that aren't reflective of their greatness. Don't be one of them;
Big Overhauls are Necessary (from time to time). You can do quite well for a couple of years updating your older website and adding things to it as your business grows and changes. The same goes for your storefront or office, but after a while you start to see that the old space doesn't work anymore… or your website home page looks like your dog's breakfast. Fixing what you have can only get you so far. If you are going to the next level, then it's time to consider moving or redesigning your website!
When it comes time to move offices, make renovations, and redecorate, you can do it on your own – but why put in the effort when with the right team, you can have it done much more efficiently and effectively while focusing on growing your business and sales?
The same goes for your website. If you're on the look-out for a hosting move, or website renovation and redesign and you want professional service contact ABORG at (613) 829-2229 or request a quote online!