You may or may not have noticed that yesterday and today, millions of websites (and emails!) were down because of a routing failure in the US. This affected the websites of some of North America's largest hosting companies, including iPage, Hostgator, Justhost, Hostmonster, and Bluehost, as well as a few of our own clients here at ABORG. However, we have since circumvented the issue due to our 'Disaster Recovery' plan for such a situation, explained below.
So why was there such a catastrophic routing failure that affected so many websites? Well, it hasn't been confirmed, but we suspect it was a security patch for Heartbleed that went awry and caused the crash.
---
No Hosting Company Is Immune
No matter which company you decide to host your website with and no matter how big or reputable they are, the truth of the matter is that there's no such thing as immunity to disaster. Whether it's a natural weather event, human error, or equipment failure (such as the case with yesterday's outage), any hosting provider is susceptible.
For instance, just recently Ellen DeGeneres managed to crash Twitter by jokingly saying on live TV, "hey let's crash Twitter by everyone retweeting this photo". It worked, and it took Twitter a while before they recovered.
A Regular "Back Up" Of Your Website Isn't Enough
You may say that "well, my hosting company backs up my website every week". This may be true, but these backups are made to the server within the same data center. Thus, if a disaster does occur to the data center building, even your backup will be affected.
The Solution: Disaster Recovery
The solution is our Disaster Recovery Plan, which we are able to offer because we have servers in two different data centers in completely different geographic locations (the US and Canada).
How Does it Work?
Every week, your website, email, and database are backed up to the other data center of where you're currently hosted.
In the event of a disaster occurring to either data center, we flip a switch (figuratively speaking) to have you up and running on the other data center – email, website, and database included. The switch is virtually instantaneous.
Nothing is lost, and most importantly, business continues.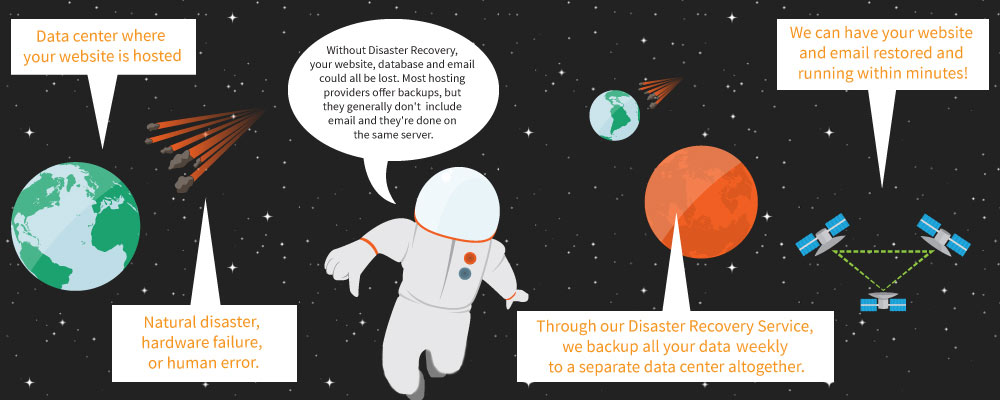 It's That Easy
For those millions of websites and businesses that were (and some still are) affected by the routing issue in the US, this could have all been avoided with such a service as our Disaster Recovery Plan.
Sign Up Today and Avoid Future Situations Like This One
If you're a current hosting client of ours, you can sign up for our Disaster Recovery Plan for only $150/year by contacting us (a worthwhile safeguard for protecting your business's' daily continuity).
And if you're not already a client, sign up here for a hosting package with the option to add on a Disaster Recovery Plan.
Thanks for reading,